My sister lives in Chile and always talks about these amazing cheese rolls she's always eating that she thought were gluten free. We tried to find a recipe for them, but weren't able to (I think we thought they were from Peru or something, so that's what I searched). Well, she was visiting Utah a few weeks ago and we went to Tucano's with our family
(as much as I love this restaurant, I don't recommend eating there if cross-contamination is a concern for you- though I'm sure you could talk to the manager about getting some food that's fully gluten free if you wanted).
Being the sweet sister she is, she asked a server if they had a list of what was gluten free. They brought out a list of things that
did
have gluten. Sadly, whatever garlic seasoning they use has it in it, but I was happy to see that their rolls were gluten free!
That's when my sister realized that the cheese rolls she always talked about must be Brazilian and not Peruvian! She tasted them and confirmed that. They were delicious! Now that I knew what to search for I found some recipes for "Brazilian Cheese Bread" (or Pao de Queijo) and it turns out that it's a fairly simple recipe! There's only 1 ingredient I had to buy and that was tapioca flour. If you've read this blog for long, you know I don't like to buy lots of fancy flours, especially if they cost a lot. Well, tapioca flour is one of the cheaper flours, so I went for it. I found mine at Bountiful Nutrition for less than $4.
I got the recipe
here
, along with the first picture
(my picture at the bottom is with my cellphone because my camera died, so it's horrible).
Gluten Free Brazilian Cheese Bread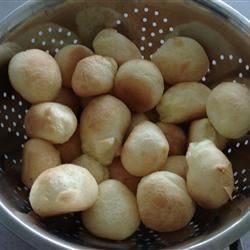 Ingredients:
1/2 cup olive oil or butter
1/3 cup water
1/3 cup milk or soy milk
1 tsp salt
2 cups tapioca flour
2 tsp minced garlic
2/3 cup freshly grated Parmesan cheese (I used cheddar cheese)
2 beaten eggs

Directions:
Preheat oven to 375 degrees
Pour olive oil, water, milk, and salt into a large saucepan, and place over high heat. When the mixture comes to a boil, remove from heat immediately, and stir in tapioca flour and garlic until smooth. Set aside to rest for 10 to 15 minutes.
Stir the cheese and egg into the tapioca mixture until well combined, the mixture will be chunky like cottage cheese. Drop rounded balls of mixture onto an ungreased baking sheet. (The original recipe calls for 1/4 cup sized balls. That's way too big. Make them into little popper sizes.)

Bake until tops are lightly browned, 15-20 minutes.
That's what the original recipe calls for. After making it once, this is what I'll do differently next time (I didn't have time to read the reviews before making it the first time):
I'll use butter instead of olive oil. There was a strong olive oil aftertaste with these.
I don't think I'll put the garlic in next time. It was delicious, but I guess the garlic isn't authentic to the actual Brazilian cheese bread.
I used a grated cheddar and mozzarella cheese blend because it's what I had. I will do the same thing next time based on the reviews.
I'm going to knead the dough a little bit and then roll the dough balls in my hands before cooking them. Mine were lumpy. Though still good, I'd like to try to make them smoother. I'll also make them smaller than the recipe called for.
These are delicious (I took mine to recipe group and everyone loved them), easy, and gluten free. They are best fresh and leftovers should be eaten within a few days, so don't double the recipe unless you're making them for a lot of people. FYI, the inside texture will be a little rubbery. That's how they're supposed to be.
Enjoy!