This is a Sponsored post written by me on behalf of
Sunkist S'alternative
for
SocialSpark
. All opinions are 100% mine.
My cooking style has changed immensely since going gluten free. Besides the obvious things like not being able to use bread crumbs or regular pasta, I could no longer depend on all of the prepackaged processed foods or seasoning packets I'd used before. At first I was very frustrated by that, but now I am grateful. The extra "stuff" that's included in the processed foods is not what I want to be putting in my body. Salt is one of those extra ingredients that is often added that we shouldn't get too much of.
As good as I am about not eating much processed food, I'm not as good when it comes to adding salt to my meal after it's on my plate. I love flavor and salt is the obvious choice, right? Well, have you ever thought about squeezing a fresh lemon over your food instead of shaking on the salt? I hadn't before either. What an awesome idea! Not only are you skipping the salt, but you're also getting vitamin c and potassium in your diet. All without losing out on flavor! These great tips are why I was excited to write about the
Sunkist S'alternative
. They have tons of great tips, recipes, and info on decreasing sodium while increasing flavor. They even have a fun quiz to take!
Go take the
Sunkist Sodium Quiz
to find out where you fall on the sodium scale and then come back here and let me know what you get. I'm guessing you're going to do pretty well because most gluten free people are good at reading labels and are more aware of what's in their food (and if that's not the case, don't be scared to share your results anyway :) ). You can even share your results with your facebook friends and compare your results to theirs. Here's what I got: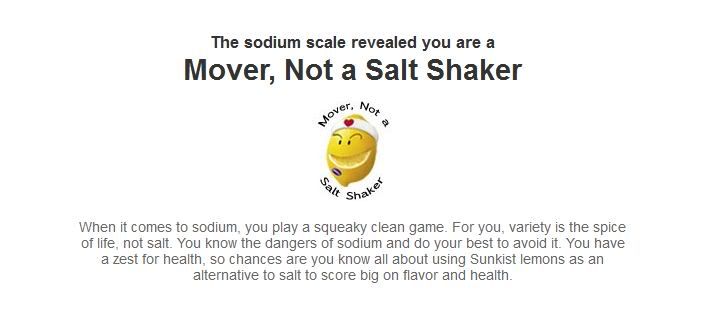 Not bad! I was right about that label reading thing ;).
BTW, check out this stat from the Sunkist S'alternative site (highlights added):
The top five food sources of sodium in the American diet are yeast

breads

, chicken and chicken mixed dishes,

pizza

,

pasta

and

pasta dishes

, and cold cuts.
3 of the 5 biggest sodium culprits contain gluten. See, there
are
benefits to being gluten free besides feeling great :).
Now check out the awesome recipes on the
Sunkist S'alternative
website. They all look delicious and they're all naturally
gluten free
! Yay! Here's an example of one of them (it's fancy):
Sunkist® Lemon Seafood Paella -
Ingredients: (Makes 8 servings)
*1- 32 oz can low sodium vegetable broth
*1 cup dry white wine
*1 teaspoon saffron threads
*1lb. of firm, fresh pieces of whitefish such as tilapia, bass, halibut and swordfish, cut into 16-21 pieces
*1lb. or 16-21 mussels, cleaned and de-bearded
*1lb. or 16-21 medium sized clams, rinsed
*cup chopped fresh parsley
*3 Sunkist® lemons, zest and juice
*3 Tbsp. olive oil
*1 _ cups minced onion
*3 cloves garlic, minced
*teaspoon crushed red pepper
*3 cups uncooked short-grain rice such as Valencian, Arborio, or Calrose
*1 cup frozen green peas
*1- 8oz jar of sliced, roasted red peppers
Instructions:
• To prepare broth, combine all the ingredients in a saucepan. Bring to a simmer (do not boil). Keep warm over low heat.
• To prepare paella, heat 3 tablespoons olive oil in a large paella pan or large skillet over medium-high heat. Add fish pieces to pan and sauté 1 minute. Remove fish from pan, reserve and keep warm. Add onion to pan and sauté 5 minutes. Add the lemon zest, garlic and crushed red pepper and cook 5 minutes. Add rice and cook 1 minute longer, stirring constantly. Stir in broth, bring to a low boil and cook 10 minutes, stirring frequently.
• Stir in the peas and red pepper slices. Add mussels and clams to pan, nestling them into rice mixture. Cook 5 minutes or until shells open; discard any unopened shells. Stir in the reserved fish and chopped parsley and cook 5 minutes. Remove from the heat, stir in lemon juice and check for seasoning. Cover with a towel and let stand 10 minutes before stirring